STORY HIGHLIGHTS
Jose Mourinho is back at Chelsea after spells with Inter Milan and Real Madrid
Mourinho first managed Chelsea between 2004 and 2007
The Portuguese coach has twice won the European Champions League
Mourinho won just two major trophies during a three-year spell at Real Madrid
(Financial Times) — Jose Mourinho needs love. He pretends that he doesn't. He acts tough, reveling in the role of stage villain, playing, with comically malevolent conviction, a scheming, plotting pantomime version of Shakespeare's Richard III. But the bad guys need love too and the Portuguese football coach, quite possibly the most entertainingly controversial character in world sport, is no exception. That is why he left Spain for England this June, and why, after a protracted but ultimately unhappy fling with gorgeous, pouting Real Madrid he returned to the steadfast embrace of Chelsea Football Club, trading glamor for unconditional devotion.
He confessed as much back in May, as his relationship with Real was drawing to its miserable end. "I know that in England I am loved," he said. "I know I am loved by some clubs, especially one." And when he arrived the following month at that one special club, Chelsea, he blew kisses to the fans, who had welcomed him back with open arms, and he cried out to them: "I am one of you!" And then he appeared on Chelsea TV and declared that he and the club to which he had been wedded between 2004 and 2007 were "back together and ready to marry again."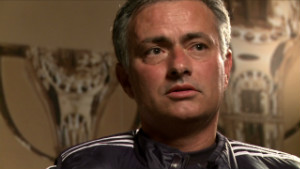 José Mourinho: 'I hate my social life'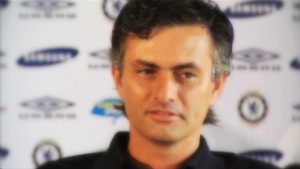 José Mourinho's press conference antics
But there was more to the sweet nothings than met the eye. Mourinho had famously described himself, the first time he arrived at Chelsea, as "the Special One"; now, he said, he wished to be known as "the Happy One." He smiled and smiled but he was hiding disappointment behind a joker's mask. The truth was that he had had to endure some humiliating blows to his self-love in the previous weeks and months. He had been spurned by Europe's big clubs, pilloried by his former fans. And that was hard to take for a man who never fails to remind us that he does not lack reasons to have a high opinion of himself.
Blog: The toughest negotiator in football?
Mourinho's record over the past decade is stupendous. He won the Portuguese championship with Porto in 2003 and 2004; the English championship with Chelsea in 2005 and 2006; the Italian championship with Inter Milan in 2009 and 2010; the Spanish championship with Real Madrid in 2012. Along the way he has won many more trophies, including the biggest prize in club football, the European Champions League, twice. Perhaps his most remarkable achievement, and the one that jet-propelled him into the big time, was winning his first Champions League in 2004 with Porto, a big club in Mourinho's native Portugal but a minnow among Europe's big fish. Six years later he won the Champions League again with an aging Inter Milan side, beating the best team of recent times, Barcelona, in the semifinals.
And yet, while it was obvious during practically the whole of last season that he wanted to leave Real Madrid, the big clubs, save for Chelsea, did not come knocking at his door. Even Chelsea did not want him back at first. The wedding bell chimes on his return were heartfelt enough but they also served to divert attention from the well-known fact that he was second choice as coach. The preferred option of the club's billionaire Russian owner, Roman Abramovich, had been Mourinho's arch-rival Pep Guardiola, the former Barcelona coach, who in the end spurned Chelsea's offer and went to Bayern Munich instead.
That cleared Mourinho's path back to London, if he wanted it. It is not obvious that he did then. For, as well-placed sources in Spain have revealed, Mourinho had set his heart on moving to Manchester United after Real Madrid. Or, at the very least, on being offered the job. But he did not even enter United's reckoning. They appointed instead a stolid Scotsman called David Moyes, who had labored gamely for years, without anything much to show for it, as coach of Everton. Hurtful also was the lack of interest shown in him by Manchester City, a coming force in European football on the back of barrel-loads of Arab money, who also replaced their coach at the end of last season.
Read: Spanish lessons for Gareth Bale
The bald fact was that Mourinho wanted to leave Real Madrid and, among the clubs capable both of paying him the big salary he expects and of competing at the highest level, Chelsea was the only one that would have him. Mourinho has arrived in England far more bruised and with far more of a point to prove than he lets on. That suggests he won't be spreading happiness around for long, that at Chelsea he will resume the style of grudge management that comes naturally to him and on which he has always thrived. He carries resentment in his bones — it is the engine of his lust for victory — and, as we have already seen in the first weeks of the English season, he is incapable of hiding it. Already he has been aiming public barbs at — surprise, surprise — Manchester United. He has also been unable to resist the impulse to deliver a snide swipe or two at Real Madrid.
The curious thing is that Mourinho's personality has not always corresponded to that of the snarling, moustachio-twirling schemer we see today. I would have described him, the first time I met him, as meek. That was back in 1997. He was working at Barcelona as assistant to the club's then coach, Bobby Robson. He and Robson had been together for five years, Mourinho having initially worked as his interpreter when the Englishman moved to Sporting Lisbon in 2002. But Robson, who had taken England to the semifinals of the 1990 World Cup, saw a studiously analytical football mind in the young Portuguese, and took him with him to Barcelona, where he increasingly had a say in team affairs.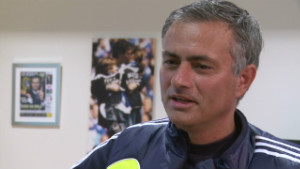 Mourinho on the enigma of Balotelli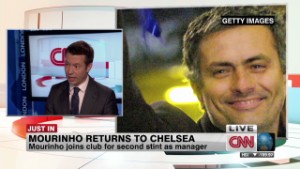 Mourinho returns to Chelsea
I knew Robson. There was a connection between him and my family and I wrote a magazine piece about him in May 1997. Six months later I moved to Barcelona. Twice I found myself sharing Sunday lunches at which Robson, Mourinho, his wife Matilde — to whom he has been married since 1989 — and a dozen or so friends were present. We must have sat for three hours each time but while the conversation moved along fluidly, with much banter and laughter, I heard barely a squeak out of Mourinho. He sat at a far corner of the table, neither in good humor nor in bad, just listening. I remember thinking that he did not seem a bad sort, just a little dull, possibly a little shy. In retrospect, it occurs to me that more likely he regarded himself as the serious member of the party and the rest of us as a bunch of clowns.
Mourinho stayed on at Barcelona after Robson left, continuing as assistant to his successor, the tactically obsessive Dutchman Louis van Gaal. In 2000 Mourinho moved back to Portugal, now elevated to first team coach but switching swiftly between clubs before joining Porto in 2002, where he won the Champions League two years later. I interviewed him on the telephone after that triumph. He spoke humbly, about the debts he owed Robson and Van Gaal, whom he described as two great and mutually complementary mentors. From Robson he had learned the art of motivation; from Van Gaal the finer points of strategy. It struck me then that the quiet, modest Mourinho I had met some years earlier was already a man with a plan. Keeping a low profile, careful not to offend his betters, politely uninterested in the jovial liturgy of the long Spanish lunch, he had seen his time at Barcelona as an opportunity silently to sponge up information in preparation for the great things he hoped would lie ahead.
Great they did turn out to be, and richly rewarded he has been too. He was never poor, his father having been a professional footballer, a goalkeeper who once played for Portugal, but at Real and now back at Chelsea he has been earning a salary of some €10m a year, plus more from sponsorship deals with Adidas. He has even reaped unexpected capital from what many regard as his roguish good looks, with Braun electric shavers. The association with Real Madrid, which conceives of itself as football's Hollywood, boosted his global profile still further. Yet in Madrid he failed. He himself refuses to quite see it that way but he would be hard pressed to deny that it was the first time, on what had previously been a smoothly spectacular ascent, that the Mourinho motor sputtered.
Florentino Perez, president of Real as well as of a powerful construction and engineering multinational, hired him as a hit man with a very deliberate job in mind: to knock Barcelona, the most successful and most admired team in world football, off their throne. There was a lot of blood spilled, plenty of shots were fired, but he botched the job. Along the way he undermined his reputation, suffering by comparison with his Barcelona foe, Guardiola, and setting back his hitherto limitless career prospects to the point that by the time he left Real he was no longer football management's most-wanted golden boy.
In three years at Real, between 2010 and 2013, he won one league championship in 2012 and one Spanish cup in 2011, coming second in the league twice, while advancing far into the final stages of the Champions League. But Real aspire to world domination or, in the absence of that, to get the better of Barcelona. Barcelona got the better of Mourinho's Real, winning two Spanish championships and one Champions League while retaining the mantle, for most of those three years, of the world's best team.
Read: Real Madrid doesn't do austerity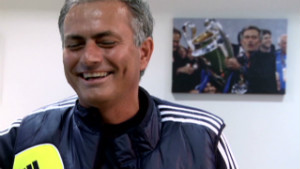 José Mourinho on managing star players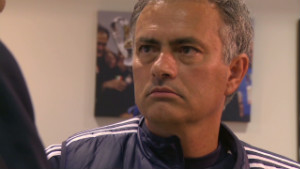 Mourinho: John Terry is not a racist
Yet Mourinho might plausibly argue, as indeed he has done, that he did as well as might reasonably have been expected. Barcelona were undoubtedly the better footballing side and, knowing this, his practical assessment was that in order to fulfill the mission for which he was being paid he would have to resort to guerrilla warfare on all fronts. One of the fronts on which he figured he could do Barcelona some damage was the press conference, terrain where, as he admitted recently with admirable candor, "we" (meaning the coaches) "lie". Continually seeking to destabilize his rivals psychologically by belittling their achievements, he made it a point of policy to attribute Barcelona's invariably magisterial victories, against Real and others, to refereeing bias.
On the field, especially during the first two years of his reign, when he overlapped with Pep Guardiola, he would get the ground staff of Real's Bernabeu stadium to let the grass grow long and ask them to keep it as dry as possible so as to hinder the smooth flow of Barcelona's passing game. And he also played ugly, typically deploying tactics designed more to smother Barcelona than to impose on them the considerable talents of his undoubtedly gifted, richly paid squad. It was Machiavelli, or Richard III, brought to football. The end justified the means. And maybe he was right in thinking this was the only approach that would allow him a realistic chance of doing the job he had been hired for. For, as he finally confessed right at the end of his tenure at Real, Barcelona had been a formidable opponent, "probably the best team in the world in the last 20, 30 years".
But the Spanish press, and most of the football public, hated both his personal manner and his style of play. The doyen of Spanish sports journalists, Alfredo Relano, is also the editor of As, the most unashamedly pro-Real sports paper there is. Relano has a daily column. Usually he is a courteous fellow. Last month, summing up his feelings and most of those of his Madrid colleagues, he wrote this: "The truth is that Mourinho blew it at Real Madrid. He was not up to the challenge. He came to eat up the world and he ended up eating something else."
Relano, like the rest of the Mourinho-bashers in the Madrid press, took his cue in large measure from the players. Throughout Mourinho's tenure, but especially in his last year, the Real dressing room generated a cascade of leaks. One would read in the newspapers practically verbatim dialogues, oozing mutual recrimination, between Mourinho and his players. The arguments usually centered on the players' sense that their coach was demeaning them. At three levels. One, because too often against Barcelona he made them play like a little team does against a big team, seeking to stop the rival from playing and hoping to snatch a goal on the break. Two, because beyond counter-attack Mourinho's Real had no settled system of play, meaning that even the weaker teams they played against figured that ceding possession of the ball to them was the best way to ensure they would not know how to attack. Three, because he seemed to follow a deviously crafted script, either blaming referees for defeats or stoutly defending his methods of play.
But the players too often refused to go along with Mourinho's propaganda ploys, instead saying they had lost fair and square or venturing veiled criticisms of his tactics. Mourinho's response — even with players of the stature of Cristiano Ronaldo or Spanish World Cup winners such as Iker Casillas and Sergio Ramos — would be to drop them for the next game. Which in turn inflamed feelings in the dressing room further.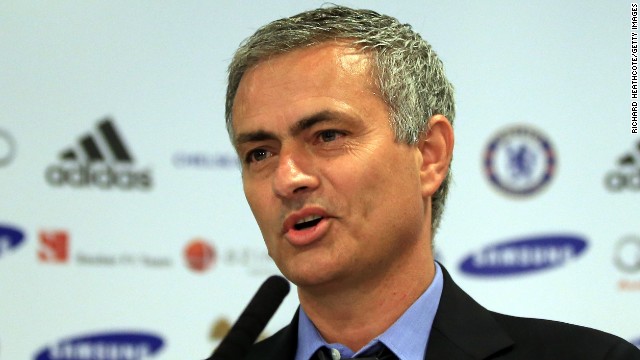 Chelsea manager Jose Mourinho talks to the media during his comeback press conference at Stamford Bridge on June 10.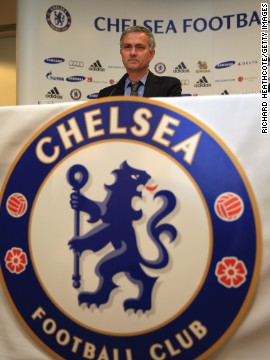 "I want to everyone to work hard, work with quality," Mourinho said. "The club means much more compared to ourselves. We are no-one without the club. If we work well success will arrive."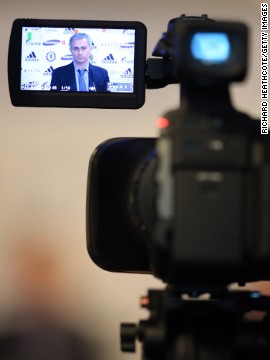 The conference was attended by some 250 journalists, eager for more of the headlines that featured at his first unveiling back in 2004, when he dubbed himself as "Special One."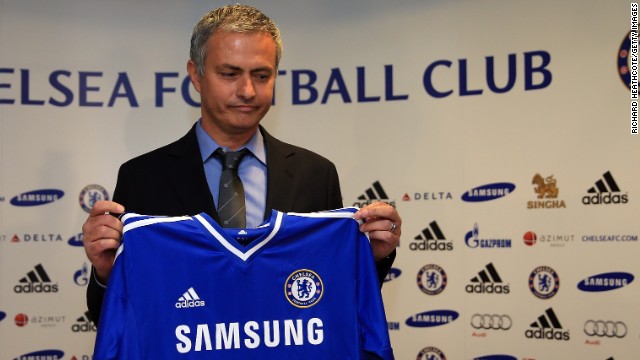 However, this time Mourinho was more measured and stressed the club's need for stability, while refusing to comment on his predecessor Rafael Benitez — with whom he had clashed when the Spaniard was at Liverpool.
'Special One' returns to Chelsea
'Special One' returns to Chelsea
'Special One' returns to Chelsea
'Special One' returns to Chelsea
HIDE CAPTION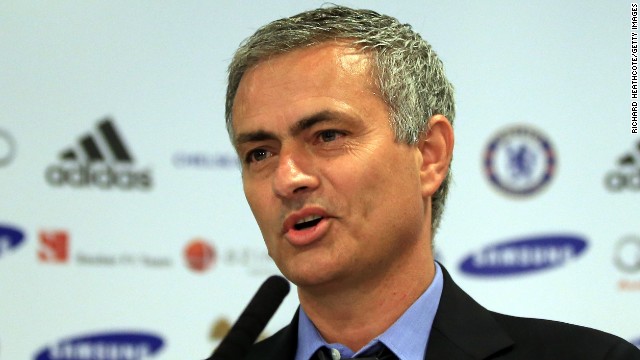 'Special One' returns to Chelsea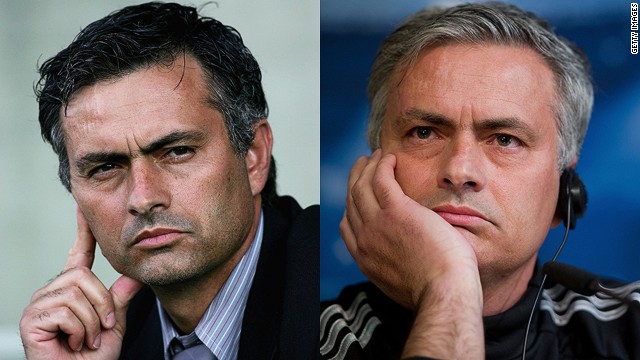 Jose Mourinho is returning to coach Chelsea six years after leaving the club. After a spell with Inter Milan he's endured a tough three years at Real Madrid and returns a different man and coach.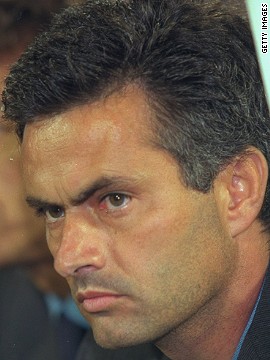 After a handful of games in charge at Benfica, Mourinho made his name with Uniao de Leiria. Angolan striker Freddy was one of his players and said even then the squad knew Mourinho was destined for the top. "He protected us from everyone, from the president, from fans, from journalists," he told CNN. "He makes you believe you are the best player."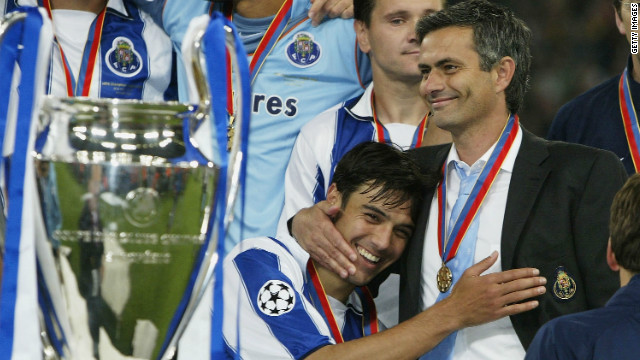 Mourinho made his name at Porto, winning a host of domestic trophies, including two successive league titles, and crowned his spell at the club with a shock Champions League triumph in 2004.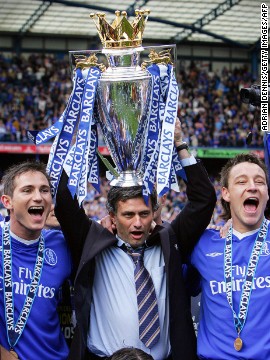 Mourinho left Porto after their European success and joined Chelsea in June 2004, declaring at his first press conference: "I am a special one." He led the club to their first English league title in over 50 years in his first season at Stamford Bridge. Frank Lampard (L) and John Terry were two of his most trusted players. He left in September 2007 after winning five major trophies.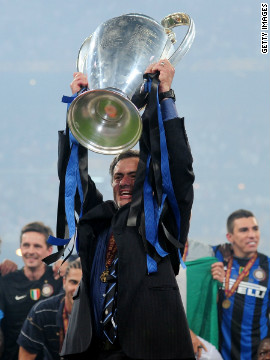 Mourinho's next move took him to Italy where he won two successive Serie A titles, the Italian Cup and a second Champions League crown in 2010. Despite delivering silverware and being loved by the fans he had a strained relationship with the Italian press, one reporter even accusing him of being physically violent.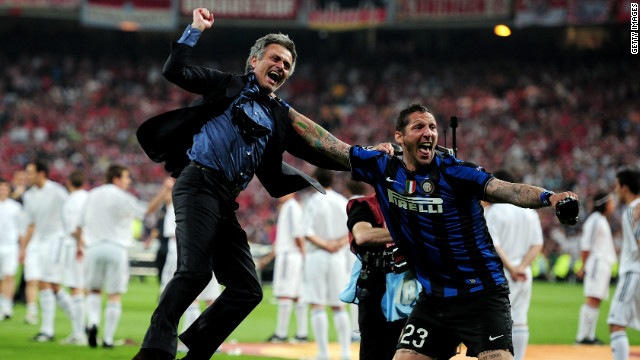 Mourinho celebrates Inter's Champions League success with Marco Materazzi. Despite making limited appearances under Mourinho, the defender was pictured in tears when he left, evidence of the strong bond the coach forms with his squad, according to a former player of his, Freddy.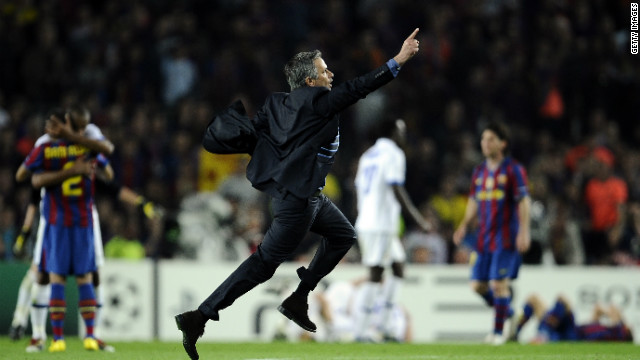 Portuguese journalist Jose Carlos Freitas says Mourinho behaves as if he's an actor on stage and he has alienated some people with his flamboyant style. He has few friends at Barcelona, where he used to work as a translator, and annoyed the club by sprinting onto the field to celebrate when his Inter side knocked Barca out of the Champions League.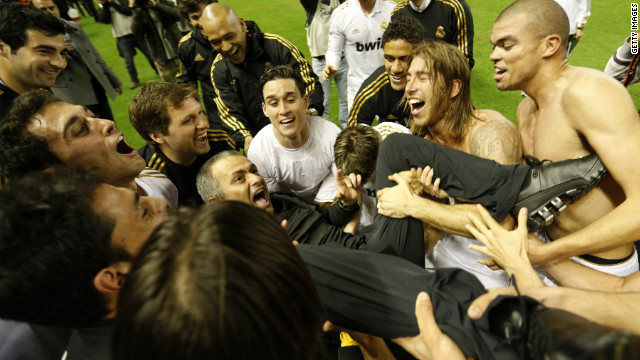 Mourinho moved to Real in May 2010 but had to wait until the following season to break Barcelona's stranglehold on the La Liga crown. Real's success meant Mourinho had won league titles in four countries — Portugal, England, Italy and Spain.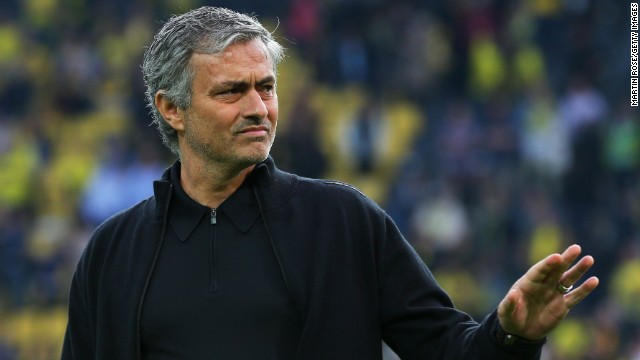 But the title Real Madrid really craved was their tenth Champions League success but Mourinho failed to deliver. After various run-ins with opposing managers, the Spanish authorities and some of his own players, defeat to Borussia Dortmund in Europe's top club competition effectively spelled the end of his time at the Bernabeu. Soon after it was announced he'd leave the club in June.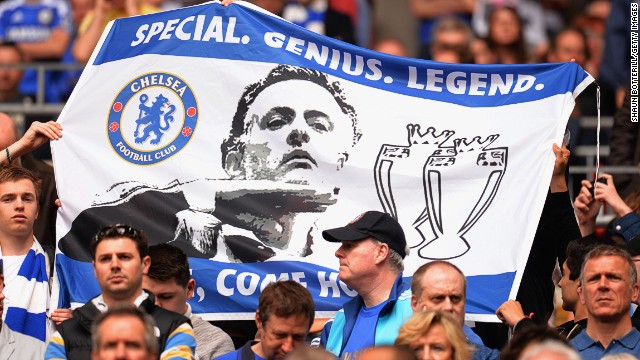 Mourinho's Real departure was welcomed by some, including Barcelona vice president Carles Vilarrubi who said he'd been a "scourge" on Spanish football. The Special One won't struggle for affection back at Chelsea and Freitas thinks that after his two years in Italy and three in Spain, Mourinho is ready to put down some roots and build a club in his own image.
The Special One
Destined for greatness
Vintage Porto
The ego has landed
Twin triumph
Loyalty to loyalty
The final act
The Real world
Madrid men
Back to the Bridge
HIDE CAPTION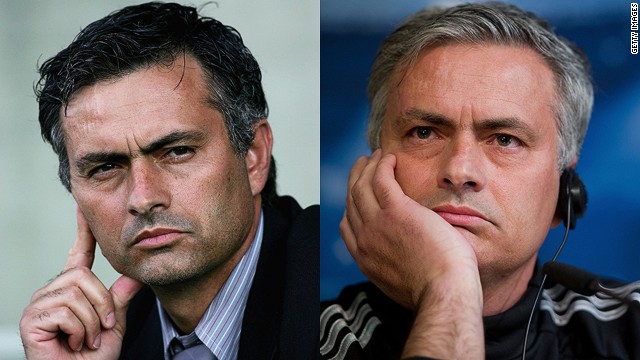 'The Special One' returns
Viewed from England all this internal dissent was baffling. What had always characterized Mourinho's tenure at Chelsea the first time around had been the blind devotion of his players. The likes of Frank Lampard and John Terry, both England internationals, spoke of him always with reverence and affection. At Inter Milan he inspired similar loyalty.
At Real the depth of ill-feeling spilled into the open continually, not least when the long-suspected rift between him and Real's star player, Ronaldo, was publicly exposed. Mourinho made a disparaging remark about Ronaldo which provoked his Portuguese compatriot to reply: "I don't want to talk about him. I'm not interested in that person. He's not worth it." And: "I am accustomed to people speaking badly of me … I don't spit on the plate from which I eat."
Mourinho's studiedly paranoid "us against the world" approach failed at Real but it worked wonders at Chelsea, where he took a club that had not won the English championship since 1955 to two league titles in three years, transforming them from willing also-rans to major competitors on the European stage. Why did it work at Chelsea and not Real? Because the Mourinho method rests on his players being soldiers first, footballers second. He prizes grit, effort and obedience above individual talent. That works better in England, among fans as well as players, than in Spain. In England fighting spirit will get you a long way; in Spain too, but there is a greater demand for art, for what they call "espectaculo".
Mourinho has arrived back in England now as damaged goods and he finds himself obliged, if not to start from scratch, to rebuild his reputation. He has two things going for him: that the English press has more of a sense of humor about his antics than the Spanish, for whom righteous indignation is a favorite sport; that his more pliable Chelsea players, who have a more modest sense of their abilities than the Real ones, are more likely to go along both with his take-no-prisoner tactics and with his instructions on what to say and not to say off the field. No one should be fooled, though, by the image the prodigal son has sought to project since his Chelsea homecoming. His manners may improve, at least while his team is doing well, but we will not be seeing a fundamentally transformed, gentler, nicer Mourinho.
His record should prepare us for a repetition of some of the outrageous things he has done in the past. This is the man who, while at Chelsea, pushed the excellent Swedish referee Anders Frisk into premature retirement by accusing him, without foundation, of having colluded with his team's opponents during a Champions League match; who, when at Real Madrid, turned on his own club's director of sport, former Real player and Argentine World Cup winner Jorge Valdano, hounding him out of his job too after publicly humiliating him by not letting him ride on the team bus; who poked a cowardly finger in the eye of the Barcelona assistant coach, catching him when he wasn't looking then quickly skipping away for cover.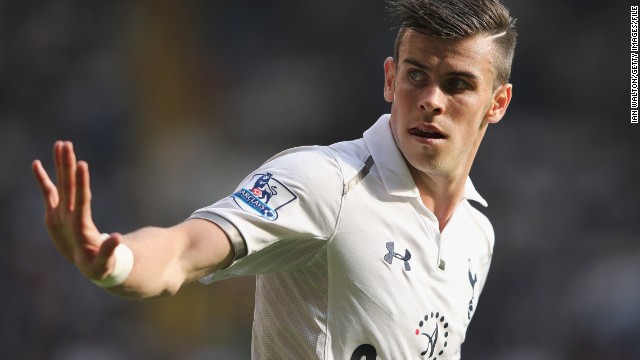 Gareth Bale joined Real Madrid following his transfer from Tottenham. As this gallery shows, Real is not averse to splashing the cash.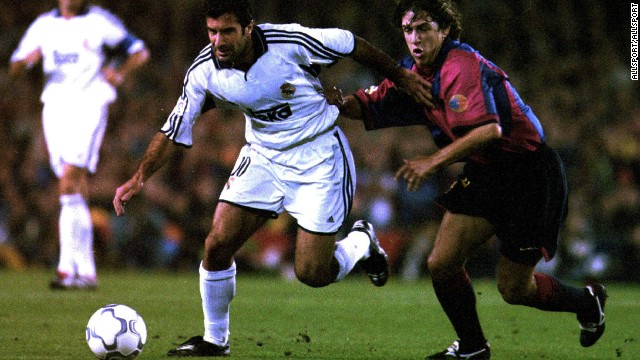 In arguably his boldest transfer move, Real Madrid president Florentino Perez broke the world transfer record to sign Luis Figo from archrivals Barcelona in 2000. The capture of Figo ushered in the era of the "Galacticos" and was symptomatic of the high spending which has characterized both of Perez's terms as Real president.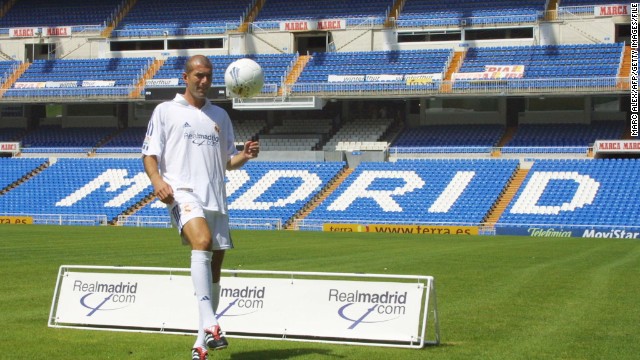 The fee Real paid for French world and European champion Zinedine Zidane in July 2001 eclipsed the one forked out for Figo one year earlier. Following his transfer from Juventus, Zidane went on to score what is widely regarded as one of the finest goals in history as Real beat Bayer Leverkusen in the 2002 Champions League.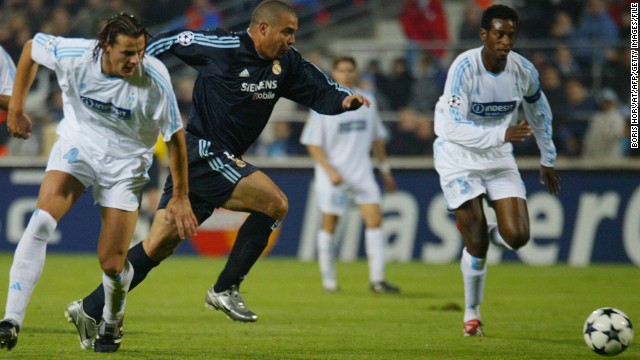 Prolific Brazil striker Ronaldo was brought in from Inter Milan. He went on to score 83 goals in 127 games for Real.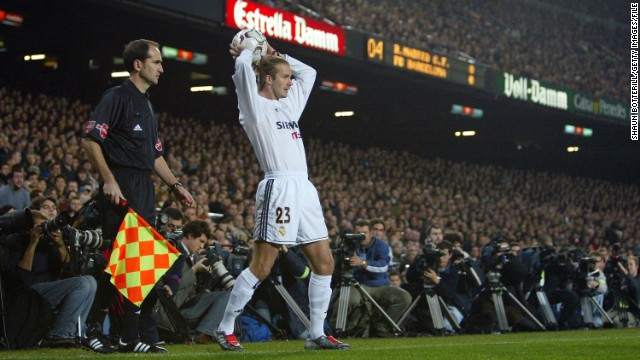 Football star and fashion icon David Beckham swapped Manchester United for Real in 2003. After four years in the Spanish capital, Beckham headed to the United States, joining the Los Angeles Galaxy.
BARCELONA, SPAIN – DECEMBER 6: David Beckham of Real Madrid gets set for a throw in as he is closely watched by the media during the Spanish Primera Liga match between Barcelona and Real Madrid at the Nou Camp Stadium on December 6, 2003 in Barcelona, Spain.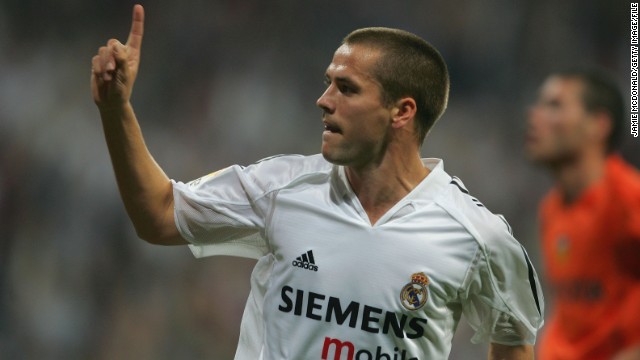 Beckham's compatriot Michael Owen followed him to Madrid in 2004. Owen was signed from Liverpool but headed back to England just one year later to sign for Newcastle United.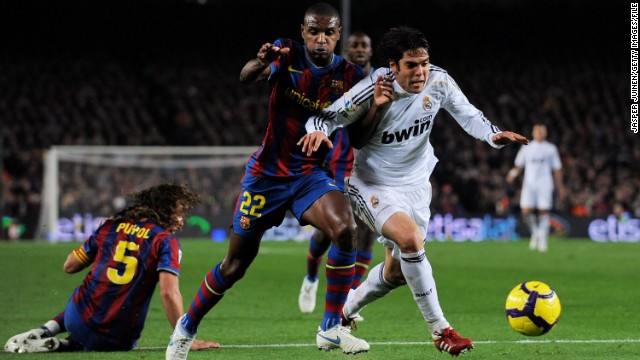 The transfer record was shattered once again in 2009 when Real snared Brazilian playmaker Kaka from AC Milan.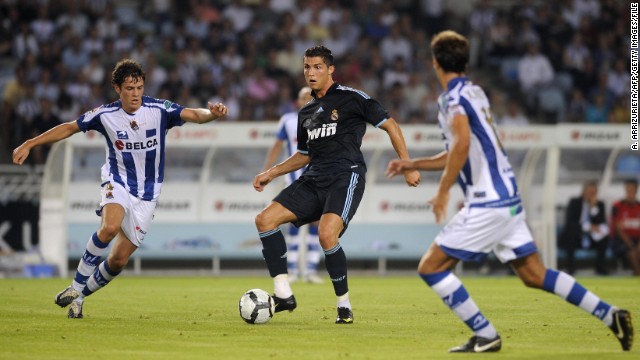 Just three weeks later, Real once again set a new benchmark for a football transfer fee. Cristiano Ronaldo joined Real from Manchester United on June 26, 2009 for a reported fee of $120 million. Ronaldo has been the poster boy of Perez's second spell as president.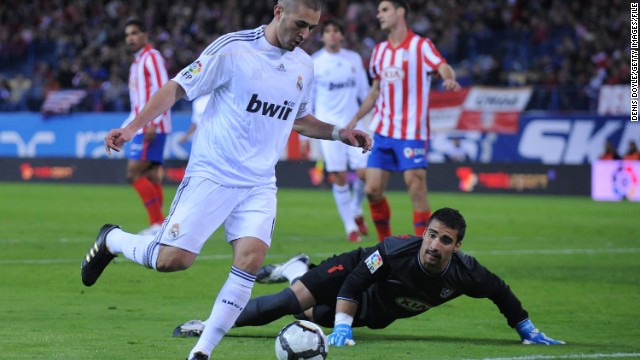 France striker Karim Benzema was a big-money recruit from Lyon and was signed in the same transfer window as Kaka and Ronaldo.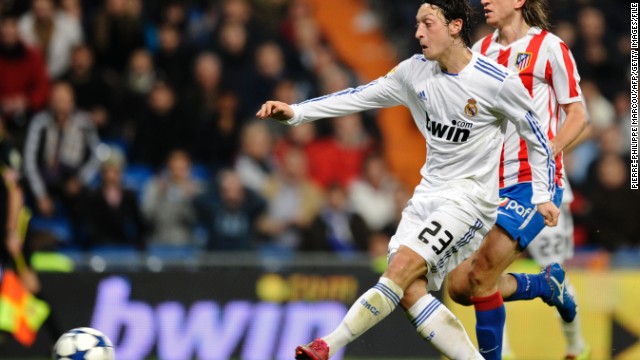 German playmaker Mesut Ozil joined Real from Werder Bremen in 2010. However, Bale's arrival signaled the end of Ozil's time at the Bernabeu and he joined Spurs' rivals Arsenal on transfer deadline day.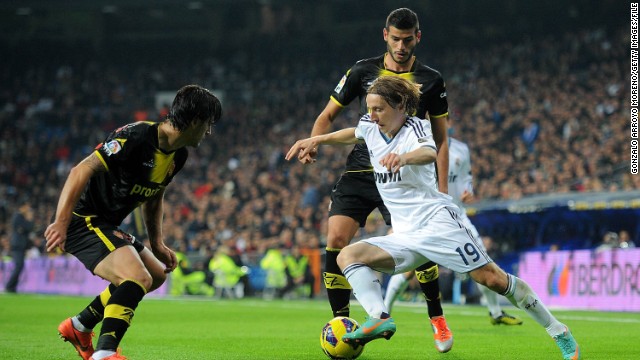 Real negotiated with Tottenham in 2012, eventually convincing the London to part with Croatia midfielder Luka Modric for $50 million.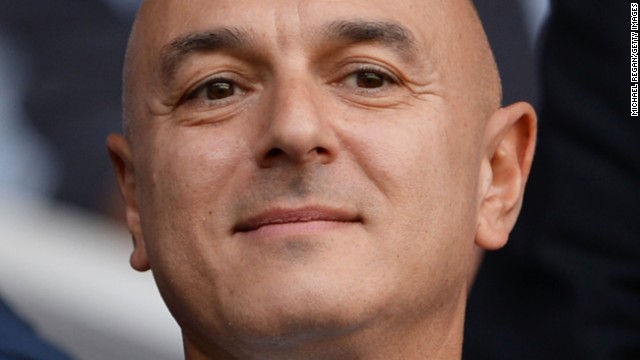 Tottenham chairman Daniel Levy had held off Real's advances for Modric until late in the summer 2012 transfer window, and he again made the Spanish side wait for Bale while he strengthened his squad with several big-money buys.
Perez's 11 'Galacticos'
Luis Figo
Zinedine Zidane
Ronaldo
David Beckham
Michael Owen
Kaka
Cristiano Ronaldo
Karim Benzema
Mesut Ozil
Luka Modric
Frustrating Florentino
HIDE CAPTION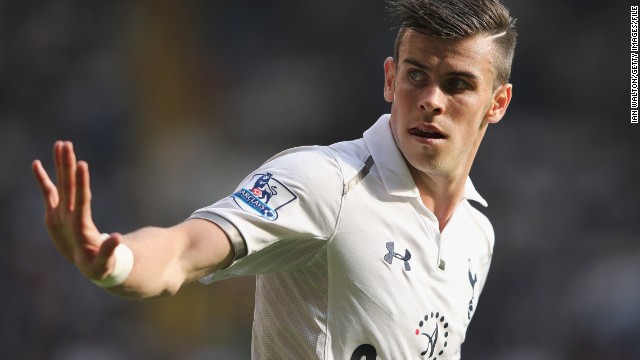 Florentino's 11 galacticos

Bale breaks new ground
A new wave of Galactico talent
A hearty welcome
A family affair
'Your shirt, your badge … '
HIDE CAPTION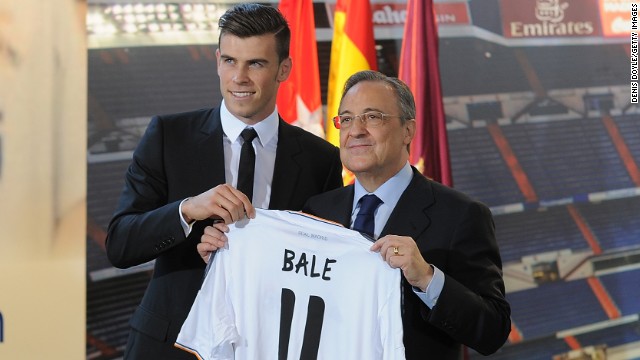 The season has barely started in England but he is at it again, sowing the seeds for more of those long-running vendettas his rancorously competitive nature requires. Resentful at having been slighted by Manchester United, he spent the preseason trying to unsettle the club, likely to be a serious league rival, by making no secret of his desire to poach their big-name player Wayne Rooney. As for David Moyes, the coach who got the job he was never even offered, Mourinho, noting in June that he had participated in 108 Champions League matches as opposed to Moyes's none, said that his rival's lack of experience in Europe ought to mean he should not be expected "to be a fish in water". He also had a dig at United generally, English champions last season, by saying that his Chelsea of a few years ago had been far worthier Premier League winners. "Do you think Manchester United won the Premier League last year because they were an unbelievable team? I don't think so," he said.
This was in marked contrast to his comments in March this year, before Moyes' appointment was made, when he was still bidding to secure United's affections. Then, after his Real team had beaten United in the Champions League, he declared, with calculated graciousness, "the better team lost". Many people would have agreed that this time he was speaking the truth, but if so it was an implicit admission of his failure at Real. Player for player Real were much the stronger team yet they struggled against a United side whose veteran coach, Alex Ferguson, had achieved what Mourinho had singularly failed to do at Real, which was to get the best out of the squad at his disposal. At Chelsea, though, and as the first big game of the European season indicated, he will probably succeed.
By a perverse and, in the end, somewhat cruel twist of fate, Mourinho found himself face to face with his nemesis, Pep Guardiola, in a UEFA European Super Cup that pitted Chelsea against Bayern Munich. No surprises in the way Mourinho's 11 played. They let Bayern have the ball, absorbed pressure, snapped at their opponents' heels to the limits the rules allow and beyond, struck fast on the counter-attack and lost by a hair's breadth, on penalties. A mightily spirited performance by Chelsea it was, too, that bodes very well for the season ahead, but Mourinho chose to center his post-match comments on the referee, who had sent off one of his players for violent play.
"An unwritten UEFA rule says always that when a team of mine plays against one of Pep's we finish with 10 men," he railed, while admitting that "in pure terms" his player had got his just deserts. His tangled reasoning was that a referee should not spoil "the passion" of a big European final by applying the letter of the law. This was either disingenuous or downright mad. A far more likely explanation than a UEFA conspiracy for why his teams often end up with a man fewer against Guardiola's is that they go on to the pitch encouraged to intimidate their more cultured opponents into submission. But all is not fair in football, as it is in war, and the risk always exists that the referee will intervene to stop limbs from being broken.
So much, then, for the happy, softer, gentler Mourinho. Less than a month into the new season the mask has already slipped. He is no longer at peace with the world, for the world, as ever, is out to get him. The barricades are up once again. Outside he remains the villain; inside, within the ramparts of Chelsea, he revels in the love he craves, the love of the fans and of the team's old soldiers such as Lampard and Terry, who may know that he is a son of a bitch, but they don't care, because he is their son of a bitch.
A difference between England and Spain is that in England they have a clearer understanding that Mourinho is not, in fact, an evil Latin American dictator, but the coach of a football team. Within the football world he will always play the stage villain, for that is his histrionic nature and the way most people have learned to respond to him, but in England they boo him with less moral rage, more pantomimic fun, than in Spain. That is why he is happier in England. But it is not, as he chooses to believe, because they love him more, but because they hate him less.
© The Financial Times Limited 2013
';
document.write(OB_MarkUP);
if (typeof(OB_Script)!='undefined'){
OutbrainStart();
}else{
var OB_Script=true;
var str="
Via:
http://rss.cnn.com/~r/rss/edition_football/~3/Zte8ze21Cf0/index.html